We bring together over 30 years of experience, listening to and working with students, parents and teachers. Everything you need is on program allowing you the freedom to discover what is important to you. Our programs are carefully designed to complement and supplement courses during the academic year but just as important, they are an opportunity to use summer as a time to try your hand at something completely new. Crucially, both in and outside the classroom.
The face of education is constantly shifting and never more so than now as the world grapples with an unprecedented pandemic as well as taking a long hard look at social injustice and inequity. That is why we believe our core principles of experiential learning, exposure to new ideas and learning how to live, learn and benefit from being in a community of diverse peers is more important than ever. The experiences you have on Athena programs will benefit you in the short term in terms of confidence, self reliance and independence but also lay the foundation for future success at college and beyond.
Our programs are not an extension of camp or a simple tour. They are far richer than that as we only seek authentic experiences that are not available anywhere else. And like most rewarding experiences, it often comes down to the people. Our dedicated team of directors and accomplished faculty are 100% focused on you, the students. Ultimately the success of our program depends upon the collaboration and input of our students who come from every conceivable background. There is no one size fits all and students are afforded the freedom to craft their own experience.
We hope you join us and see for yourself how rewarding a summer with Athena can be.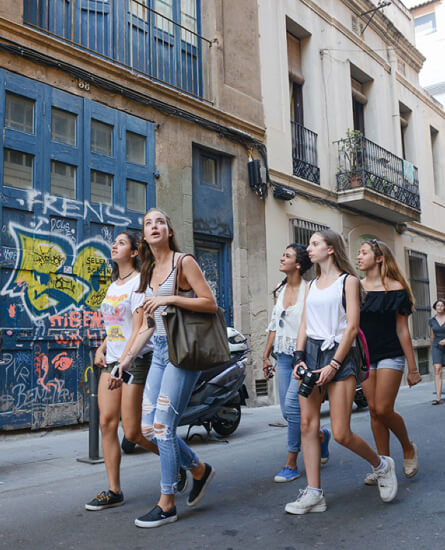 Marta Ramos
Language Programs Director and Homestay Coordinator, Athena Spain
Marta has directed Spanish language and immersion programs since 1997. As a native of Conil she sees the program as a very personal way to invite American students into her hometown. Marta lives in New York City during the year and understands exactly what American students of Spanish are looking for when it comes to building Spanish fluency. Marta has also led customized programs for US schools in Spain and designed cultural immersion programs in Barcelona, Nice and Florence. Marta has seen firsthand how a homestay experience is the best possible learning environment for our students and her family even hosted an American student back in 1990. Marta received an honors degree in linguistics and translation from the University of Granada, Spain.
Leonor Brenes Bermúdez
Program Director, Athena Spain
Leonor has directed Spanish language programs and worked closely with high school students each summer since 2001. As a native of Conil, she knows all the homestay families and staff extremely well and ensures the curriculum and all aspects of the program are delivered successfully. Leo has led numerous language programs in Spain as well as school trips to Salamanca and Barcelona and has directed summer arts courses for Christie's Education in New York. Leo has taught Spanish at all levels both in Spain and in the U.S. as well as leading IB programming and Spanish curriculum development. She is currently a Spanish teacher at St. David's school in NYC. Leo received her BA in English literature from the University of Seville.